RADSTOCK and MIDSOMER NORTON LIONS CLUB
in Lions District 105SW of Multiple Lions District 105 - British Isles
Radstock is in South West England
---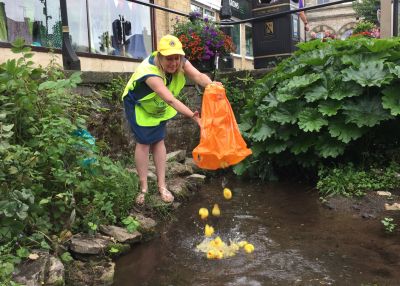 &nbsp
&nbsp
DUCK RACE 2021 Saturday 18 September


On Friday, Robert clearing the stream prior to the duck race


And they're off! Lion President Sarah has a little help

We had a beautiful day for the duck race and sold 145 ducks in the morning prior to the race.
As we had 750 ducks competing, we held five heats with the first 10 from each heat taking part in the final race.
The final race saw duck 481, coming in first, 526 coming in second with 940 coming third.
421 earned Heather first prize of £50.
526 earned Eileen second prize of £30.
940 earned Mike third prize of £20.

A well needed boost to our funds as this year has been, shall we say, a little difficult!


---

Website updated by the . Web design by Deltronic.